Classes
The following applies to all DTCDC classes:
Cost — $90.00 for a 6-week session.
Duration — Classes meet once a week for one hour for 6 weeks.
Equipment — Buckle collar (instructors will discuss other types of training collars and help make collar selection best suited to handler/dog). Six-foot leash (of cotton web, nylon web, or leather is recommended and 1/2 or 5/8 inch width is easiest to handle). No chain leashes or harnesses. Halti type head collars are permissible.
Treats — Hot dogs sliced into penny-sized thin portions, Bil-Jac (frozen dog food), Rollover (or other sausage shaped rolls available at pet stores) sliced or cubed, chunk or string cheese cubed or sliced into thin portions, cheerios, toys, or anything that will turn your dog on!
Clothing — Wear comfortable clothing, tennis shoes or other rubber-soled shoes. Thongs, loose fitting sandals or hard soled boots are not recommended.  High heels are not allowed as they can damage the surface of the training floor.  Only flat-soled shoes are allowed on the training floor for safety reasons.
Spectators — Spectators are welcome, but noise level must be kept to a minimum. For their safety, children accompanying students to class should remain seated in the spectator area while class is in progress.
Facilities — Cold drinks are available for purchase. Our building is climate controlled with restroom facilities.
Puppy Class:
Our Puppy Class is for pups 9 weeks through 5 months old. The puppy owner learns how to use positive methods to teach the puppy good manners and to build a bond of love and respect. The pup is socialized with other puppies and people and taught exercises to help them gain confidence when meeting new situations and objects. The puppy will learn to come when called, sit, lie down, stand, and not pull on the leash while walking. They are also taught to settle down, be touched and be examined by both the owner and a stranger. The instructor leads discussions on Jumping Up, Home Training Problems, Nutrition, Grooming, Crate Training, Spay/Neutering and other subjects to help the puppy's family become responsible pet owners. Puppies are also taught the meaning of "Off", to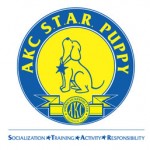 remove themselves from furniture, etc. Instructions for teaching some tricks (roll over, etc.) are included to give the puppy and handler additional "training fun" and to let the dog "show off". A Training Handbook is issued to each student.
"Authorized AKC S.T.A.R. Puppy Training Provider"
Beginner Class:
Our Beginner Class is for dogs six months and older. Students learn how to become benevolent leaders of the "pack" and to teach their dogs exercises that will help them to become well-mannered family pets. Beginner Class exercises include: attention, controlled walking in heel position, automatic sit, circle right, circle left, about turn, fast pace, slow pace, fast recalls using a recall chute, walking among a crowd, sit, down, stand, sit-stay, down-stay, stand for examination and an introduction to tricks. A Training Handbook is issued to each student.
Intermediate Class:

is for students who wish to to continue to work with their dogs, learn new exercises and gain more control over their dogs as well as to start training for competitive obedience/rally. Instruction will include an introduction to Rally and the skills needed to obtain AKC Canine Good Citizen, Community Canine, and/or Urban Canine Good Citizen titles.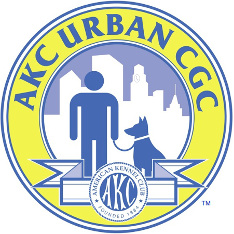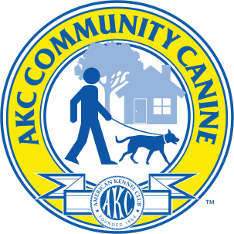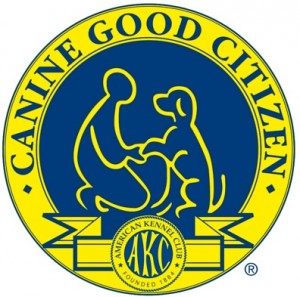 Admission is restricted to those who have satisfactorily completed a Beginner class and received recommendation from the Instructor to attend OR have approval of the Training Director. Dogs will remain in this class until they have received recommendation from the Intermediate Instructor to move on to the Competitive Class or Novice Rally.  Canine Good Citizen tests will be scheduled for the week following the last week of class for an additional fee of $10 for members and $20 for non-members.
Advanced Classes:
For information about our advanced obedience classes please contact the Training Director . Click on " Contact Us " and make your selection.
A) Novice / Beginner Open Obedience

Is for handlers who wish to continue to work with their dogs, learn new exercises and gain more control over their dogs as well as those who wish to train their dogs for competitive obedience.   The class is intended to prepare dogs/handlers for competition in Beginner Novice and Novice classes.  In addition, the class will introduce the dumbbell retrieve and jumping for preparation to move to the Sunday, Polish Open class.  Admission is limited to those dogs that have:
1) Received recommendation from the Intermediate class Instructor
2) Obtained a Beginner Novice or Companion Dog title
3) Received a recommendation from the Training Director
B) Open And Utility
C) Novice Rally ( Limited Classes )
Is for dogs that have completed the Intermediate class and received recommendation from the Instructor to attend or have the approval of the Training Director.  Dogs will remain in this class until they have earned the Novice Rally title from the AKC, ASCA or UKC.
D) Advanced Rally ( Limited Classes )
Will prepare the handler/dog for competition for Rally titles beyond Novice. Admission is restricted to dogs that have received the Novice Rally title in AKC, ASCA or UKC.
E) Conformation
F) Beginner Nosework:
Want a fun class that doesn't require a lot of prior training?  If your dog has completed a Puppy or Beginner class, Nose Work may be just the thing!
Nosework is a new sport where dogs are trained to find certain odors in four different elements - interiors, exteriors, vehicles and containers.  Sniffing is one of the greatest joys in a dog's life, yet we rarely allow them to do it.  This class is a great confidence builder for dogs; offers an outlet for older and retired dogs; and provides mental stimulation for ALL dogs. Dogs will become proficient on their first target odor, and will learn how to be "odor obedient" even in the face of distractions.  The class is run seminar style where all dogs are crated when it is not their turn to work so owners will need to bring their dogs crate.
If your dog has a working nose and LOVES food, come join us!!!  Whether you plan to compete, or just want to have fun with your dog – Nosework fits the bill.
G) Advanced Nosework
This class focuses on preparing handlers/dogs for all levels of UKC Nose Work competition.  Your dog is a candidate for this class if:
1) Your dog has been recommended by the Beginner Nosework Instructor.
2) Your dog has earned Nosework titles in any level in UKC, NASCW or PSD
3) Your dog is tested and recommended by the DTCDC Advanced Nosework Instructor
The Instructors will set up unique courses each week for teams to run and work on all four elements (weather permitted for exteriors and vehicles) at all levels.  The class will concentrate on the introduction of distraction odors, blank rooms, detailing, advanced handling techniques, and extended searches.  The class is run seminar style where all dogs are crated when it is not their turn to work so owners will need to bring their dogs crate.
If you are serious about competing, then this is the class for you!
*************************************************


AGGRESSIVE DOG POLICY

:
IF A DOG IS DETERMINED TO BE AGGRESSIVE OR A
DANGER IN CLASS IT WILL BE REQUIRED TO WEAR
A MUZZLE IN ORDER TO CONTINUE CLASSES. IF THE
DOG CONTINUES TO BE A DISRUPTION IT WILL BE
ASKED TO LEAVE.
DTCDC IS A DRUG AND ALCOHOL FREE FACILITY

:
ANY PERSONS FOUND OR SUSPECTED TO BE UNDER THE
INFLUENCE OF DRUGS OR ALCOHOL WILL BE ASKED TO
LEAVE THE TRAINING FLOOR IMMEDIATELY.

************************************************